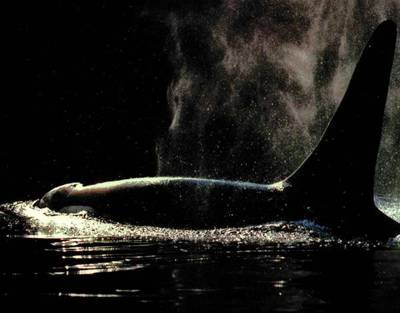 Blackfish (3:55)

56K | 28K | 14K
Music: Racket Ship
Voice: Dr. John Ford
Photos: Alain Oyafuso

1758 Linnaeus Classification: Dephinus orca (demon dolphin)

1860 Genus: Orcinus

Local Names: Killer Whale; Orca Dolphin; Blackfish; Grampus

Habitat: All oceans and seas, from deep waters to coasts.

Maximum Size: The largest of the dolphins; males- 9.75m, 10.5 tons, females- 8.53m, 7.4 tons.

Feeding: These Wolves of the Sea hunt together in pods; they have the most varied diets, including fish, squid, turtles and seabirds.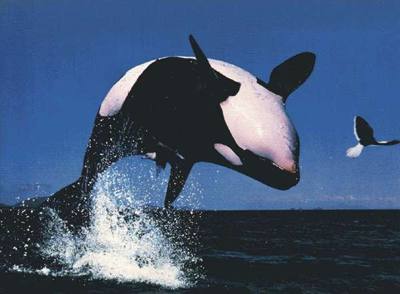 Dr. John Ford of the Vancouver Aquarium Marine Science Center, has been studying whale vocalizations since the 1970s. Two hundred miles north, one of the largest stable populations of orcas come to eat salmon. Using hydrophones (underwater microphones), Ford monitors their movements and communications. He can identify separate pods (families) and individuals from just their sounds. (Previously whales could only be tracked by implanted beacons in their flesh -- not easy for the whales and the humans.)
To transmit the hydrophone signal to his Vancouver laboratory, he started a radio station: ORCA-FM. It broadcasts 24/7 live submarine sounds. The feed also streams over the web at WhaleLink.org.



Download a broadcast-quality stereo MP3 version
from a Wandering Jew site near you:
wjew.iuma.com mp3/wjew/

audio © The Wandering Jew

Press



Record